6 Reasons why X Games belongs in Austin
X Games made its inaugural appearance in Austin, Texas this weekend and the world was not left disappointed by the festival's new hosts. After a long 11-year stint in Los Angeles there was a lot of pressure on the Texas capitol city but they delivered in some style.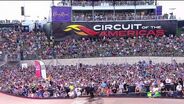 2:36
1.382 Views
The Lone Star State is now set to welcome the best athletes in action sports every summer for the next four years – so here are six reasons why that is very good news for Extreme Sports.
If you want to see for yourself then tune into the Extreme Sports Channel every Saturday and Sunday at 7pm from July 19th for double bills of X Games Austin.
With ten hours of the best highlights from X Games you can't miss it! Check our TV Guide here.
1. The Crowds
Over the four days of competition in Austin 160,000 people showed up to cheer on the athletes. That's the biggest X Games attendance in over a decade and they were louder and prouder than ever before.
They got behind their home-grown athletes in a remarkable way, cheering Chase Hawk to his first ever BMX Park gold medal, despite him failing to make the podium at every attempt since his debut in 2006.
But they really made their voices heard in the BMX Big Air event. High winds threatened to cancel the competition but the passion of the spectators inspired the riders to demand organisers to let them do their things whatever the weather.
2. The Locations
X Games Austin produced some photo ops that will be reshown for years to come. The opening events took place in the heart of downtown Austin with Jamie Bestwick smashing the BMX Vert competition in front of the imposing capitol building.
Most of the other action was held at the Circuit of the Americas, the new purpose built Formula 1 venue. Equally spectacular, the huge facility was big enough to hold everything fans needed including music, food, games and, of course, different events and world class competitions mere walking distance from each other.
3. The New Age
X Games Austin not only represented a new era for the location of X Games - it also ushered in a new generation of action sports athletes.
There was a symbolic changing of the guard on the very first day with 20-year-old Jimmy Wilkins defeating Skate Vert royalty in Pierre-Luc Gagnon and Bucky Lasek to win his first ever gold.
And an even more remarkable upset happened the following day. Bob Burnquist, who has competed at every single Summer X Games in history, was knocked off the top of the Skateboard Big Air podium by 14-year-old Tom Schaar, the second-youngest gold medalist ever. Joining these new stars of the future, there were also new events to experience in Austin with the debut of Stadium SUPER Trucks and the slightly controversial Call of Duty: Ghosts. The future of X Games looks bright.
4. The Old Age
Having said that, X Games Austin also provided viewers with the all names and faces that have come to represent action sports over the last 20 years.
Jamie Bestwick provided one of the moments of the weekend when he won his ninth-straight X Games gold in BMX Vert. Elsewhere, Bucky Lasek showed he can do more than just skate, with a first medal in Rallycross. Bob Burnquist was on hand to lift young Tom Schaar aloft when he beat him to Skate Vert gold and Tony Hawk was of course ever present on the sidelines and in the commentary booth.
With a relatively short history, X Games lovers have grown up with these personalities, the event would not be the same without them and in Austin they showed they might be sticking around for a bit longer yet.
5. The Culture
Austin, Texas has been the spiritual home of alternative thinking and rebellious youth for years and as a result is the perfect meeting point for action sports.
In a city that doesn't take itself too seriously, and bases many of its values on the famous slogan 'keep Austin weird', our favourite alternative sports will feel right at home. However, even more importantly they will be allowed to flourish and grow in Austin and hopefully that culture will take the X Games to new levels of popularity – particularly important after X Games across the world were scrapped last year.
6. Everything is bigger in Texas
As the saying goes 'everything is bigger in Texas', and X Games Austin was no different - and it wasn't just the crowds that were huge.
The organisers ramped things up in every aspect of X Games for 2014 with something for everyone. They went all out with nine fan villages that were packed with food and activities that could keep anyone entertained for a full day and night, even before sitting down to take in some competition.
X Games Austin also raised the bar on the music side of things, with Kanye West and Gary Clark Jr headlining a weekend of tunes that could rival a large summer festival with 39 acts in total.
A new era of X Games has well and truly begun in which action sports are more legitimate and popular with a more varied audience than ever before. Keep it up, Austin!
Channels: Auto Sports, BMX, FMX, MX, Skateboard