Extreme Weekend Roundup
It's time for another huge installment of the Extreme Weekend Roundup. This week we have news, results, pictures and highlights from all four days of X Games Austin, as well as interviews with a host of riders from the Downhill World Cup in Fort William.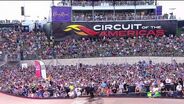 2:36
1.382 Views
Top it off with Round 2 of the Red Bull Cliff Diving World Series and add some ASP World Tour action from Fiji and you have all the Extreme Sports action you need from another epic weekend.
X Games Austin – First X Games in Texas goes down in history
The world's best Extreme Sports festival took place over four days this weekend and it was one to remember with history made and records broken in Austin, Texas.
Jamie Bestwick smashed his own X Games record with a ninth-straight BMX Vert gold, while Tom Schaar became the youngest Skateboard Big Air winner ever at just 14.
Nyjah Huston secured his place as the most successful street skater in X Games history with a sixth gold, while Garrett Reynolds made it seven in BMX Street.
There were new champions in Skate Vert, BMX Park and BMX Big Air and brand new events with Stadium SUPER Trucks and Call of Duty: Ghosts appearing for the first time.
And Austin itself, hosting its inaugural event, attracted some of the biggest audiences ever seen at X Games to cheer athletes to bigger and better heights.
To see all the news, results, highlights and pictures from another epic installment of X Games check out our daily roundups here:
Day 1: Jamie Bestwick wins 9th-straight gold
Day 2: Schaar wins first gold, Reynolds back on top
Day 3: Five golds given despite strong win and intense Texas heat
Day 4: History made on final day in Austin
UCI World Cup Downhill – Brosnan powers to first-ever World Cup win
Troy Brosnan won his first ever UCI World Cup Downhill in Fort William on Sunday leaving the race for the overall title wide open. The 20-year-old Australian beat countryman Sam Hill to the top of the podium with British rider and 2011 World Champion Danny Hart finishing third.
Overall leader Aaron Gwin and Gee Atherton rounded off the podium in fourth and fifth respectively while Greg Minnaar just missed out on his 100th World Cup race.
The result for Brosnan, who went into the finals as fastest qualifier, means there have been three different winners in the first three rounds, making the race for the 2014 World Cup title very interesting. But the Specialized Racing rider wasn't thinking much further than celebrating his win in Scotland after fulfilling a lifelong dream.
"This is something I've wanted to do ever since I was a kid and started riding downhill," he said. "To do it has made me smile and given me confidence for the next world cups."
The women's overall is also anyone's to win after Emmeline Ragot won her first race of the season – while favourites Manon Carpenter and Rachel Atherton both suffered punctures.
Extreme.com was in Fort Bill to bring you first hand coverage of the event. Click here to read interviews with Minnaar, Brosnan, Carpenter, Ragot, defending champion Stevie Smith and, the voice of MTB, Mr. Rob Warner.
To read our full race report and watch the full live replay click here.
The next race of the UCI Downhill World Cup is less than one week away, taking place in Leogang, Austria on Saturday 14th June - Sunday 15th June.
ASP World Tour – Medina takes Tour lead with second win
Gabriel Medina won his second event of the ASP World Tour on Sunday and moved back to the top of the world rankings with victory at the Fiji Pro.
The Brazilian defeated 2013 Rookie of the Year Nat Young in a thrilling final, which included a near-perfect 9.87 for Medina.
Michel Bourez finished third, alongside Kolohe Andino, to move into second overall after beating Fiji Pro defending champion, Kelly Slater.
"It's great to be back at the top of the ratings, it's still early but I'm feeling good," said Medina. "Thanks to everyone in Fiji, I just love it here especially with a win."
In the women's event, Sally Fitzgibbons recorded her second-straight tour victory in Fiji but still sits behind overall leader Carissa Moore.
The next stop on the ASP World Tour is Jeffery's Bay in South Africa from Thursday 10th July - Monday 21st July.
Red Bull Cliff Diving – Hunt seals record-breaking win in Texas
Gary Hunt won the second round of the Red Bull Cliff Diving World Series in Fort Worth, Texas on Saturday as he chases a fourth world title.
The Briton came out on top in an incredible final which included many world-class dives causing the judges to award six 10s.
However Hunt's score of 526.40, the highest overall score ever recorded in a single competition, was enough to beat defending champion Artem Silchenko into first with Steven LoBue finishing third.
"I did four good dives and a new personal best score so I couldn't ask for much more," he said.
"There were so many amazing dives in the final round. It just pumps you up so much when you're hearing the scores come through, and you just want to keep that streak going."
Saturday also marked the first-ever Women's World Series competition which was won by Texan girl Rachelle Simpson, with Anna Bader in second and Cesilie Carlton rounding off the podium in third. Click here to watch the highlights from the Red Bull Cliff Diving World Series in Fort Worth, Texas.
The Red Bull Cliff Diving World Series now travels to Inis Mór, Ireland for the first European stop on the tour on Sunday 29th June.
Channels: Extreme.com, Auto Sports, BMX, FMX, Mountain Bike, MX, Outdoor, Skateboard, Surf