X Games Austin: Day 4 - History made on final day
Nyjah Huston and local boy Chase Hawk smashed the final day of X Games while SUPER Trucks and Call of Duty made their debut - but Moto X Freestyle was cancelled.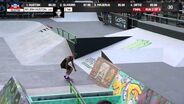 1:06
X Games Austin: Nyjah Huston wins Skate Street gold
1.919 Views
Nyjah Huston finished off X Games Austin 2014 in record-breaking style on Sunday with a dominant victory in the Skateboard Street final.
On his way to winning a sixth X Games gold medal he posted the highest Skateboard Street score ever recorded at the event.
The American's best run earned him a massive 95.00 with his closest rival Luan Oliveira only managing 87.66. Alec Majerus rounded off the podium in third while best qualifier Ryan Sheckler finished fourth.
Huston's latest gold also means he has more X Games wins than any other street skateboarder.
But the 19-year-old admitted it was a tough competition, particularly because of the high winds that shook up the final two days of competition in Austin.
"I felt super on-point as soon as I started skating in semifinals. I was like, 'I feel really good today'," he said.
"But the wind makes you question how your tricks are going to go. It makes everything so much more sketchy but somehow I pulled it off."
In the women's event, Lacey Baker won her first X Games gold ahead of 14-year-old Pamela Rose in second and two-time gold medalist Leticia Bufoni in third.
Meanwhile, Chase Hawk was inspired by his hometown crowd in Austin, Texas to produce a fantastic display in BMX Park on Sunday and win his first ever X Games gold medal.
It was the first time Hawk had made the podium at X Games since making his debut back in 2006 and he was joined by silver medallist Drew Bezanson and Daniel Sandoval.
The 27-year-old was the top qualifier going into the final and did not let his faithful supporters down by producing the two highest scores of the day.
And Hawk admitted after securing his first X Games medal that winning was extra special in the city where he learnt his trade.
"I'm speechless right now," he said. "This is unbelievable. The crowd were amazing.
"This couldn't mean more to me. This is the city I grew up in, so this just means that much more."
Click here for Chase Hawk's gold medal winning run.
Elsewhere, Stadium SUPER Trucks made its X Games debut in Austin with Apdaly Lopez collecting the gold medal.
The 19-year-old from Tecate, Mexico is the first Mexican male to win an X Games gold while Sheldon Creed took the silver and Robby Gordon finished third.
And finally, more history was made in Austin on Sunday as the first X Games medals were awarded in video gaming for the new Call of Duty: Ghosts event.
Optic Gaming were the team who took home the first gaming gold medal and $400,000 after beating the favourites Evil Geniuses in the semi finals, who ended up with bronze, and silver medalists Team Kaliber in the final.
Strong winds and intense heat made X Games Austin Day 3 very interesting but strong gusts remained on Sunday and forced organisers to cancel the Moto X Freestyle event.
Check back every day on Extreme.com for roundups of all the action and for previous day's action click here. You can also watch every second of X Games Austin when it hits the Extreme Sports Channel in July. Click here to see our TV listings.
Channels: Auto Sports, BMX, FMX, MX, Skateboard