X Games Austin: Day 3 - Five golds given despite heavy wind and intense heat
Medals awarded in BMX Big Air and Dirt, RallyCross, Skateboard Park and Moto X Speed & Style despite heavy wind and sweltering Texas heat.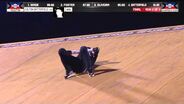 0:36
X Games Austin: Colton Satterfield wins BMX Big Air gold
694 Views
Colton Satterfield collected his first ever X Games gold medal in BMX Big Air on Saturday despite heavy wind in Austin - which forced Moto X Freestyle to be postponed.
The freestyle motocross will now be held on Sunday but Satterfield was one of many riders who insisted the BMX Big Air must take place because of the huge number of fans in attendance.
The biggest crowd ever assembled for a BMX Big Air event were not disappointed as the American soared past silver medalist Morgan Wade and James Foster to top the podium.
Satterfield's winning run included a no-handed corked 720 over the gap and triple tailwhip on the quarterpipe and was worthy of a 90.66 score.
And the 24-year-old, whose only other medal was a bronze at X Games Barcelona 2013, admitted he could barely believe he stomped his run but was quick to pay tribute to the vocal X Games crowd.
"Being able to land that run was unbelievable to me," he said. "It was the craziest feeling and I think it took about 20 seconds of everybody shaking me to realize what happened.
"This contest wasn't even going to happen and it only happened because all the fans were going absolutely insane."
Elsewhere, Australia's Kyle Baldock kicked off Saturday's action by winning BMX Dirt gold, the third X Games gold medal of his career.
Baldock saw off competition from runner-up Ben Wallace and bronze medalist Brandon Dosch thanks to a score of 92.33, which he then bumped up to a 95.00, for a clear victory.
He is now focused on repeating the double gold he won in both BMX Dirt and BMX Park at X Games Foz do Iguacu 2013 when the Park event gets underway on Sunday.
Click here for Baldock's gold medal winning run in full.
Meanwhile, Pedro Barros battled intense heat at Austin's Circuit of the Americas to win the Skateboard Park event and add a fifth gold medal to his X Games collection.
The Brazilian also kept alive his streak of making the podium in every X Games event he's competed at since winning gold on his debut in 2010.
He was awarded a score of 90.66 which left him over six points clear of nearest rival Grant Taylor, with Aaron 'Jaws' Homoki finishing in third.
"It's amazing to skate with all these dudes," said Barros. "They're all my friends and they all rip it up.
"It kind of felt like a session in probably one of the most hot days I've ever skated in my life, but it was amazing."
Click here for Barros' full gold medal winning run.
Moto X Freestyle may have fallen victim to the wind but Moto X Speed & Style went ahead with Mike Mason beating Blake Willaims in the final to win gold.
The win gave the 32-year-old American his fourth Speed & Style gold and seventh X Games medal in total, while Jarryd McNeil won the bronze medal match to finish third.
And finally, former Formula 1 driver Scott Speed won a second X Games gold medal in the Rallycross.
He beat Skateboard Vert legend Bucky Lasek into first, who celebrated his first Rallycross medal with silver, but his 20th overall in the X Games, while Nelson Piquet Jr secured bronze.
Sunday is the final day of X Games and medals will be handed out in BMX Park, Super Trucks, both women's and men's Skateboard Street and Moto X Freestyle.
Check back every day on Extreme.com for roundups of all the action and for previous day's action click here. You can also watch every second of X Games Austin when it hits the Extreme Sports Channel in July. Click here to see our TV listings.
Channels: Auto Sports, BMX, FMX, MX, Skateboard