X Games Austin: Day 2 - Teen Schaar wins first gold, Reynolds back on top
Tom Schaar, 14, breaks youth Big Air record while legend Garret Reynolds returns to BMX Street glory.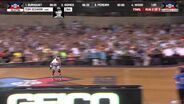 0:27
X Games Austin: Tom Schaar wins Skate Big Air
3.657 Views
Teenager Tom Schaar became the youngest ever winner of X Games gold in the Skateboard Big Air competition with victory on Friday in Austin.
The 14-year-old beat skateboarding royalty in seven-time Big Air winner Bob Burnquist, who claimed silver, and Edgard Pereria finished third - despite unveiling a never-before-seen heelflip indy 540.
But it wasn't enough to stop Schaar who landed a 720 over the gap and a 900 on the quarterpipe and is now the second youngest skateboard X Games medalist ever behind Ryan Sheckler.
Schaar made his X Games debut aged 12 in 2012 and didn't take long to win his first medals, sealing Big Air silver at X Games LA and bronze at X Games Munich in 2013.
And the American, who is being hailed as the future of Skateboard Vert and Big Air, was delighted to have won his first gold in Texas.
"I'm just happy that everything worked out," he said. "Everyone else was killing it and it was a great contest."
Earlier in the day, Garrett Reynolds reclaimed his place on the BMX Street throne by winning his seventh X Games gold medal in the event on Friday.
The American had won every BMX Street event at X Games since it was introduced in 2008 before Chad Kerley brought his streak to an end in LA in 2013.
While Kerley failed to make the finals this year Reynolds looked in unbeatable form, and qualified first before beating Dakota Roche to the top spot, with Dennis Enarson taking the bronze – his sixth X Games medal.
After a couple of slightly disappointing runs Reynolds dazzled the judges, who awarded him a score of 90.66 thanks to a big 360 fakie right at the buzzer.
And the returning king of BMX Street admitted that, in X Games' new home of Austin, Texas, this was one of the hardest of all his medals to come by.
"It's so hot, and street riding is so much about using your muscles to pull and pop tricks," he said. "By the time you do like five tricks in this heat your muscles start to lose it."
Click here to watch Reynolds' gold medal winning run.
Elsewhere, three-time X Games gold medalist Sheckler came out on top in the elimination round of Skateboard Street, with five-time gold medalist Nyjah Huston just behind him in second place.
However, X Games rookie Riley Hawk, son of skateboarding legend Tony Hawk, did not make the cut for the finals which will finish off the festival on Sunday night.
There was also a host of motocross action on Friday in Austin and Taddy Blazusiak claimed his fourth X Games gold in the Enduro X, beating Cody Webb to the line with Alfredo Gomez finishing in third.
Polish rider Blazusiak only made his X Games debut in 2011 but has since won five medals in seven appearances and admitted he had to battle to get his fourth gold.
"I had to give it everything I had," he said. "It was such a close race but I've got a gold medal again. That's the fourth one I'm going to hang on the wall so what can I say? I'm super happy."
Meanwhile, in women's Enduro X, Kacy Martinez won her first X Games gold with a crushing 10-second victory over silver medalist Sandra Gomez Cantero and Rachel Gutish.
Games rookie Tom Parsons won the fan voted Moto X Best Whip with 33% of the vote ahead of Jeremy Stenberg, a four-time previous winner, and Josh Hansen.
And finally, high-flying Ronnie Renner soared to his sixth Moto X Step Up gold medal at X Games by clearing a remarkable 34 feet on his 20th appearance at the event.
There will be six gold medals up for grabs on Saturday including BMX Dirt, Rallycross, Skateboard Park, Moto X Speed & Style, Moto X Freestyle and BMX Big Air.
Check back every day on Extreme.com for roundups of all the action and for previous day's action click here. You can also watch every second of X Games Austin when it hits the Extreme Sports Channel in July. Click here to see our TV listings.
Channels: Extreme.com, Auto Sports, BMX, FMX, MX, Skateboard