Win tickets to Nitro Circus LIVE Stunt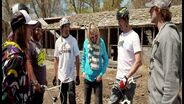 0:47
2.132 Views
We have 20 tickets to give away for this record breaking show which takes place at the O2 arena in London, so if you're in London, live near by or will just get yourself to the venue by what ever means possible, then enter our competition to win by simply tweeting us @wwwextremecom and using the hashtag #iwanttogotoNitroCircus.
It's that easy. We'll collect all the tweets and choose 20 lucky winners at random on the 26th February.
Get to it, spread the word, retweet, shout very loudly.
Channels: Auto Sports, BMX, FMX, Mountain Bike, MX, Skateboard