Nitro Circus - The movie hits the big screen with live record breaking stunt
Omniverse Vision in partnership with Universal Pictures International Entertainment (the home entertainment division of Universal Pictures), is excited to bring Nitro Circus: The Movie 3D to a cinema near you.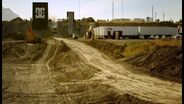 0:26
Nitro Circus - Travis Pastrana Bus Jump
4.722 Views
Fresh from a wildly successful live tour in Australia, Europe and the USA, Team Nitro are back to bring their unique brand of action sports to another dimension. Audiences will be wowed when the team attempt the impossible, with a record breaking stunt, live from the O2 in London.
The ground breaking event will be streamed live via satellite to over 500 screens around the world on 28th February 2013, kick-starting what is sure to be an adrenaline fuelled ride. UK fans of Nitro Circus can catch this special event live at their local cinema. For cinema locations and to book tickets, head to www.nitrocircusthemovie3d.com.
With commentary from founding partners and producers, Jeremy Rawle and Gregg Godfrey, viewers will see 18 daredevils endeavour to simultaneously back-flip motorcycles within dangerous proximity to each other, as they attempt to smash a Guinness World Record.
After witnessing the nail biting event, viewers can then sit back and enjoy more thrilling action with Nitro Circus: The Movie in 3D, a rollicking history of how this madcap band of no-limits adrenaline addicts are pioneering the territory where action sports and entertainment collide.
Nitro's team leader Travis Pastrana says, "The action and stunts you'll see in this movie are bigger and crazier than anything we have ever done before and this movie amplifies them not only on a huge scale but on world wide stage."
Relive Nitro's high-octane exploits again and again with Nitro Circus: The Movie on DVD and Blu-ray available from Monday 25th March.
As Jackass Director Jeff Tremaine comments, "Jackass stunts are designed to fail, everyone knows that! With Nitro stunts you have to succeed, or you die," so don't miss this thrilling series of insane exploits as lives are risked and limits are met.
With fantastic bonus material including gruesomely gory outtakes and an interview with Jackass star Johnny Knoxville and Channing Tatum plus the 3D version of the film is available on Blu-ray, Nitro Circus: The Movie is a must have for any adrenaline junkie's collection.
Channels: Auto Sports, BMX, FMX, Mountain Bike, MX, Skateboard